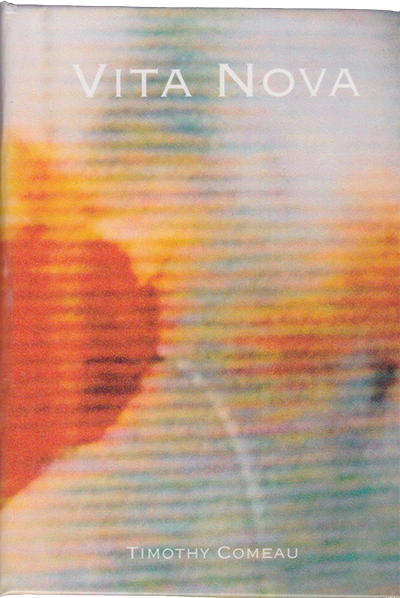 Vita Nova is the product of creative writing I began in the summer of 1999, and by the end of that year I was curating it to assemble a narrative divided into four parts. A guiding theme was a summation of my experience growing up in Nova Scotia ("vita nova scotia") but it also repurposed the title of a work by Dante Alighieri, whose work I then understood as a summation of the 14th Century zeitgeist. I too wanted to capture the spirit of the age and record what it was like to grow up in the late 20th Century.
The book was originally produced in 2000 as a handmade artist book, printed on 4x6" index cards with an HP laserjet printer. It was distributed as a gift through the years 2000 to 2003 as a numbered edition. The handmade version had six different cover designs, and each had an assigned ISBN. I kept a log (reproduced below) to record who they were given to.
In 2009–2010 I created a print-on-demand copy via Lulu.com. In 2021 I revised it to produce a hard cover version more in line with the orginals.
Exhbition History
A copy of
Vita Nova
was exhibited twice:
Overtime @ Workplace
Music for Lawyers
The first was the
Overtime @ Workplace
show in May 2001, and the second was at my solo show in March 2003 at the Zsa Zsa Gallery ("Music for Lawyers").
Review
Listed as "Zine of the Month" in May 2002 Broken Pencil magazine nº19.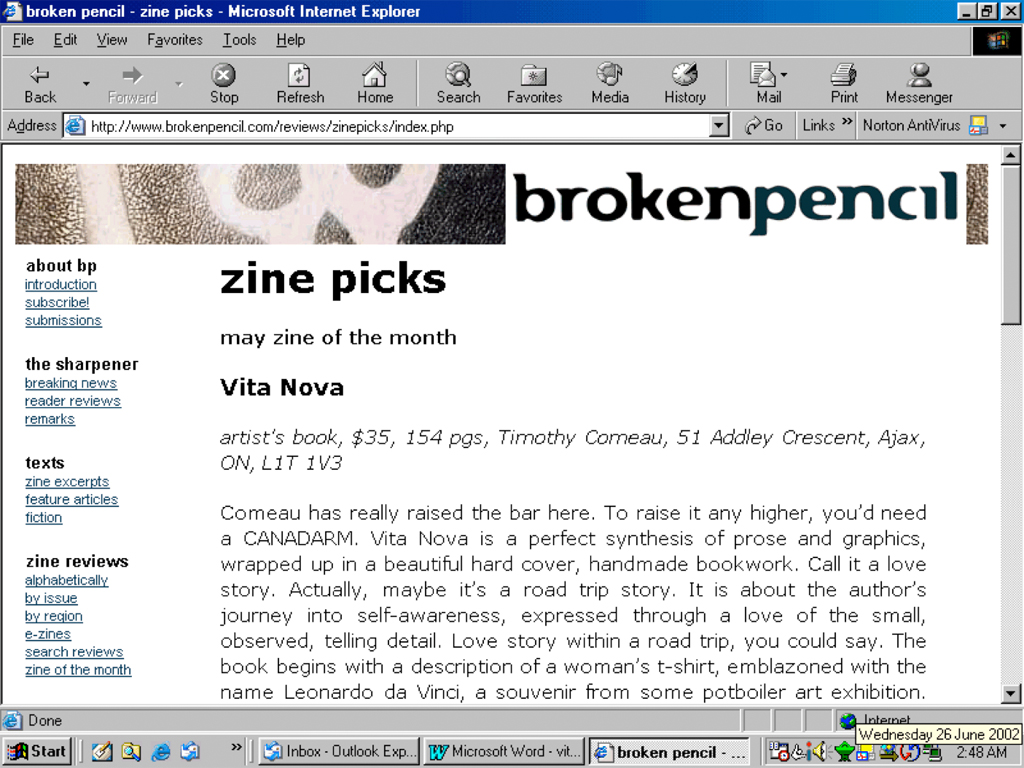 ---
Vita Nova Log
To
Date Printed
Cover
Endpaper
Illustrations
Count
Nº
Notes
Given
Date Given
Janna Popoff
Beckett with credits
Fully Illustrated
xb-2
Eva Brannen
Tuscany
Beckett with credits
MT
8b
Ben Skinner
Citadel Hill
Beckett with credits
MT
13b
Andy McLean
Glowing Green
Beckett with credits
MT
25b
Andrew McLaren
Glowing Green
Beckett with credits
MT
26b
Artist Proof
July 2000
None
N/A
Fully Illustrated
1
I
N/A
July 2000
Artist Proof
July 2000
None
N/A
Fully Illustrated
2
II
N/A
July 2000
Artist Proof
August 2000
Poppy
Candles
Fully Illustrated
3
III
N/A
July 2000
Artist Proof
25 October 2000
Nudity Collage
Beckett with credits
Mostly Text (MT)
4
5a
N/A
N/A
Edward Deary
August 2000
Poppy
Candles
Fully Illustrated
5
1-1
Yes
Mailed on 30 August 2000
Basil Wood
August 2000
Glowing Green
Beckett
MT
6
2
Yes
Mailed on 30 August 2000
Nick Eley
September 2000
Yellow Bridge
Beckett with credits
MT
7
3
Yes
Delivered on 3 October 2000
VITA NOVA REVISED
7.1
October 2000
Sara Spike
25 October 2000
Tuscany
Beckett with credits
MT
8
4a
Yes
Delivered on 23 April 2001
VITA NOVA REVISED
8.1
April 2001
Andrew Kear
7 May 2001
Tuscany
Beckett with credits
MT
9
6b
Yes
Delievered on 10 May 2001
Kate Monro
14 May 2001
Glowing Green
Beckett with credits
MT
10
7b
Yes
Given on 25 May 2001
Destroyed
22 May 2001
Beckett with credits
MT
10.5
Andrea Lalonde
11 June 2001
Tuscany
Beckett with credits
MT
11
9b
2001-07-12
Yes
12 July 2001 (Trip/Halifax)
Gretchen Skye
12 June 2001
Yellow Bridge
Beckett with credits
MT
12
10b
Yes
19 July 2001 (Trip/Halifax)
Jessica Brannen
19 June 2001
Tuscany
Beckett with credits
MT
13
11b
Yes
9 July 2001 (Trip/Halifax)
Chris Lloyd
19 June 2001
Ajax One
Beckett with credits
MT
14
12b
Yes
9 July 2001 (Trip/Halifax)
Cynara Mori
5 July 2001
Yellow Bridge
Beckett with credits
MT
15
19b
Yes
6 July 2001
Natalie de Vito
3 August 2001
Glowing Green
Beckett with credits
MT
16
15b
Yes
29 August 2001
Sarah Kilpack
6 August 2001
Citadel Hill
Beckett with credits
MT
17
27b
Yes
17 August 2001
Craig Powers
13 August 2001
Yellow Bridge
Beckett with credits
MT
18
22b
Yes
23 August 2001
Sarah Hollenberg
13 August 2001
Glowing Green
Beckett with credits
MT
19
23b
Yes
23 August 2001
Thea D
15 August 2001
Tuscany
Beckett with credits
MT
20
16b
2001-09-11/12
Yes
13 September 2001
Sasha Havlik
6 Sept 2001
Poppy
Beckett with credits
MT
21
17b
2002-03-20
Yes
13 September 2001
Artist Proof
8 Sept 2001
None
Beckett with credits
MT
22
37b
2001-09-11 & 2003-02-18
N/A
See Notes 2001-09-11
R.M. Vaughn
11 Sept 2001
Poppy
Beckett with credits
MT
23
14b
2001-09-11/14
Yes
Mailed on 17 Sept 2001
Janice Demkiw
15 Sept 2001
Ajax One
Beckett with credits
MT
24
18b
2001-09-22
Yes
22 September 2001
Holly Ward
18 Sep 2001
Citadel Hill
Beckett with credits
MT
25
20b
due 6 June 2002
Jenny-Orenda Smith
24 Sep 2001
Poppy
Beckett with credits
MT
26
21b
2001-12-10
Yes
Maied on 17 Oct 2001
Sandy Plotnikoff
19 Nov 2001
Citadel Hill
Beckett with credits
MT
27
24b
Yes
6 December 2001
Jon Sasaki
12 March 2002
Citadel Hill
Beckett with credits
MT
28
28b
Yes
14 March 2002
Brie Bergen
19 March 2002
Tuscany
Beckett with credits
MT
29
29b
2002-03-23
Yes
22 March 2002
VITA NOVA REVISED
2002-07-22
April 2001
Kathy Ruppert
22 July 2002
Ajax
Beckett with credits
MT
30
30b
2002-07-22a
31 July 2002
YYZ Fundraiser Prize
22 October 2002
Tuscany
Beckett with credits
MY
31
31b
2002-10-22
2003-05-31
31 May 2003
Jo Cook
VITA NOVA REVISED WITH RESTORED FONTS & ENDPAPER LOGO
2003-03-09
April 2001
Marie Sano
10/14 Feb 2002
Tuscany
Beckett with credits
MT
32
32b

For Music for Lawyers 5 March 2004

Jade Rude
18 Feb 2003
Tuscany
Beckett with credits
MT
33
33b
Yes
19 February 2003
Day Milman
24 March 2003
Halifax
Beckett with credits
MT
34
34b
Jenifer Papararo
14 June 2003
Glowing Green
Beckett with credits
MT
35
35b
15 June 2003
ISBN Nº
N Collage cover, ISBN 0-9689468-3-6
Citadel Hill cover, ISBN 0-9689468-4-4
Glowing Green cover, ISBN 0-9689468-0-1
Poppy cover, ISBN 0-9689468-2-8
Yellow Bridge cover, ISBN 0-9689468-6-0
Tuscany cover, ISBN 0-9689468-1-X
Ajax One cover, ISBN 0-9689468-5-2

Notes
2001-07-12: Andréa Lalonde's is inscribed with a to/from
2001-07-19: Gretchen Skye's is inscribed with a to/from
2001-08-15: A Notes on Being only was printed on 15 August due to a printer error
2001-09-11: I discover while printing RM Vaughn's, that the picture Hannalore Reaching, has disappeared from the file. Even stranger, the fact that it has disappeared from the backup file on the zip disk as well. I thus find it on the hardrive and reinsert it. Checking the three that I have bound already, I notice that it is absent from the one I printed for Thea on Saturday (8 Sept). It was not absent from the one I printed for Sasha on Thursday. The third book that I had bound on the weekend was the one I had intended for Micheal Fernandez. I had thought about using this one to give to Thea, but I wanted to give her a Tuscany cover, and it was already ISBN'd for the Yellow Cover. Since she did not choose a cover, I am going to give her this one, and the one I had printed for her is now an artist proof, which is a piss off, but whatever, it'll find a use one day.
2001-09-12: I bind Thea's with the Tuscany cover after all. Last night I had printed a Yellow Bridge cover, only to discover that the ink was running out, and it was streaky, so I couldn't use it. So, I simply printed an ISBN sticker (which was faded due to the whole ink thing) and stuck it over the Yellow Bridge number which had been printed in the back.
2001-09-14: More problems because of the stupid disappearing picture. Rereading the book on the computer (to revisit it I guess, want to see just what I have exposed to Thea and Sasha now…) I find that the line "From an email from the month of May" in the Notes on Being Reprise section, has shifted up so that it lies under the part where Gretchen told me I was beautiful. I sort of liked this effect on the screen, but then thought, oh shit! It is present in Vaughn's … I figure this is because of the picture, I doubt it's present in Sasha's or Thea's. I corrected it nevertheless. It seems that everyone is so impressed by the quality of the binding (by that I mean, since it looks so good, rather than being actual 'quality' binding…) and the uniqueness of it to their experience so far ("you bound this yourself?!") that no one is going to care about typos and what nots. I aim for meticulousness, and yet, the whole hand bound thing means it's going to be rough around the edges inevitably. That fact is one of the nice things about the book, that it looks machine made, but it's not…
2001-09-22: I intended to give Janis her book on Friday the 21st. I expected to see her at one of the three openings. I didn't see her, but dropped it off in her board member mailbox at Mercer Union this morning on my way home. I sent her an email to tell her this.
2001-12-10: Jenny told me on Th. 6 Dec 2001, after the Mercer opening, that pages of her VN had fallen out, but that she liked that. To her, it made it more precious, and she was able to replace them in the way that she wanted.
2002-03-20: I visit Sasha at her apartment, and check out the book I gave her. I noticed one of the pages had come loose.
2002-03-22: Given to Andrew Kear, so that he could give it to Brie.
2002-07-22: Computer change-over in May resulted in loss of fonts. Had to reformat the books, chose new fonts for the design.
2002-07-22a: Kathy wanted a picture substition, the "tangled girls" doodle in place of "Hannalore Reaching".
2002-10-22: This is first fully revised book. Kathy's used the fonts "Back to 1982" on the title page and "snootpixel.org" somewhere in the text. This copy uses the font "intimacy" on the title page, and is set in Times New Roman, rather than Agaramond which the older versions (pre new computer) were set it.
2003-01-17: I determined that the print run of VN in total should be 40. That is, with 31 made, I only need to make 9 more and I can close the project down. Having offered it for sale earlier in the week on the website, I priced it at 50$ to discourage interest, since I don't want to be inundated with orders.
2003-02-09: I reformatted the text with the restored fonts.
2003-02-14: I modified the edition number to be 45
2003-02-18: AP 37b - I put a Glowing Green cover on it and used it as a "cover model" during my Music for Lawyers show.
2003-05-31: This book was printed with a Glowing Green ISBN but a sticker replaced it to the appropriate Tuscany cover. This book was submitted as a prize at the YYZ Fundraiser, Trixxx, on 31 May 2003