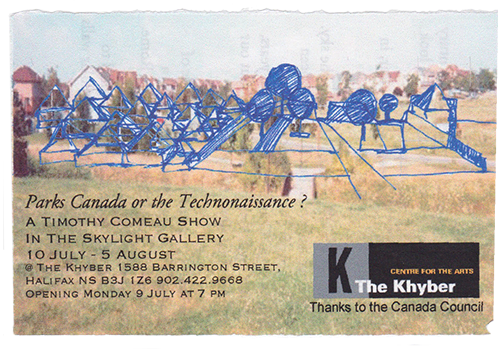 In an accompanying essay written and produced as a booklet for the show, the constructed geography is compared to "IKEA furniture made with grass and trees". What does such a contrived geography say about the demographic who live in a suburb?
What if instead of loathing urban sprawl and the monotony of the constructed suburban landscape, we tried to look at it as they will in a hundred or so years, appreciating it for it's heritage value? In the same way that Parks Canada rebuilds and animates old communities to illustrate past ways of life, I wanted to look at Ajax as if it was a Parks Canada historical village, the SUV drivers and backyard barbecquers as animators dressed in historical costumes.
From the artist statement:
I have long been interested in how the future would look upon the present, having grown up going on field trips to Port Royal and visiting Louisberg on family trips. As well, I came to art through the study of the Renaissance, I have long felt a connection to history and the relationship between lives lived and the objects left behind. And so, as I drove around Ajax, loathing it's car friendly design over the pedistrian, the seeming insane joy at development, and the confirmation of certain suburb sterotypes (the popularity of SUV's for instance) I began to think, this is all an historicism. These things will not last.
Pretending then, to see this area as a Parks Canada historical recreation, and my neighbors as actors of "what life was like in a consumerist capitalist culture". But also seeing it as a moment in time, the turn of the 21st Century, the time when our technology is still fresh on the scene, the period of the "birth of technology" and thus, the technonaissance. Such a time has it's own aesthetic characteristics, which I am interested exploring.
Parks Canada or the Technonaissance?
A Timothy Comeau Show
In the Skylight Gallery
10 July - 5 August
@ The Khyber 1588 Barrington St
Halifax NS B3J 1Z6 902-422-9668
Opening Monday 9 July at 7pm